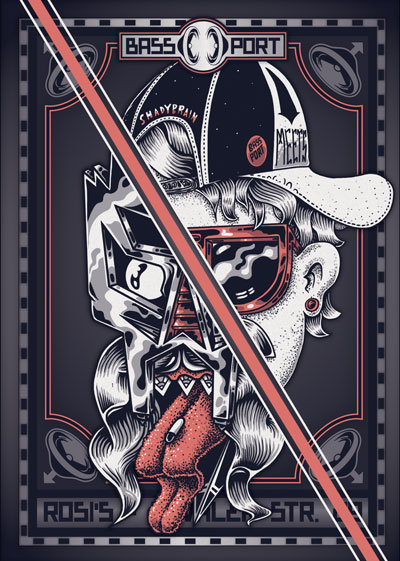 With support by Berlin based promotion Bassport, we are holding our label night at infamous Rosi's Club in Berlin on November 19th 2011. The line up is something extraordinaire with a lot of friends showcasing the hottest and latest beats:
Drum and Bass floor:
Cause4Concern [ C4C, Virus, shadybrain - UK ]
Cern (Project51, Uprising, shadybrain - NZ)
Hybris (Metalheadz, Critical, Renegade Hardware - US)
Triad (Horizons, Critical, DSM - DE)
Duo Infernale (Soul:R, shadybrain, Dispatch - DE)
Chris CK (klick klack- DE)
MC Stunnah (Aelement, shadybrain - DE)
Vj: VJEN
Bass Music floor (Jungle, Oldschool Hardcore, Dubstep, Techno):
Felix Lupus (Rote Sonne, Munich Techno, shadybrain - DE)
Chris Impulse (shadybrain - DE)
SKP ( Rave ist kein Hobby - DE)
Start: 11pm
Entry fee: 8 Euro
STRICTLY LIMITED HAND-NUMBERED VINYL + DIGITAL
Drum and Bass legends Cause4Concern release tehir outstanding tunes "Makes Me Wonder" and "Chameleon". Instead of delivering dancefloor madness, both tunes are as deep and melodic as music can be and are instant anthems in one of the most rapidly evolving music scene which is Drum and Bass.
DJ support: Noisia, D.Bridge, Instra:Mental, Loxy, Flight, Phace, Rockwell, Data, ASC, Stray, and many more..
Buy the vinyl:
Buy the MP3:
Our longtime friend and first hour supporter Polarity returns to shadybrain with an EP as versatile as possible. Starting of with the deep and dubby "Lyrical", he the rolls out two neurofunk stompers "The Ride" and "Parallel Distortion" before ending the release with a deep and moody tune named "Deep Core"! This is something for everyone (with taste)!
Listen and download NOW